At Valence Primary we aim to create a school where PRAISE is central to our aims.
We recognise the commitment of parents, staff and governors in developing a positive partnership. Our children will be able to learn together, achieve together and belong together and will be well prepared to meet the challenges of an ever changing world.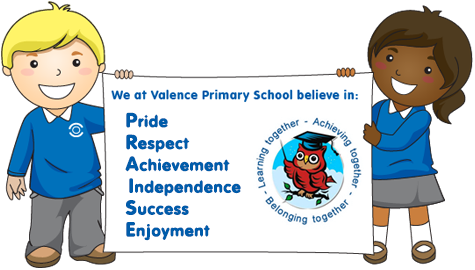 Slim Your Bin!
After our successful renewal of our Eco Flag Award Councillor Rice paid us a visit as part of a drive to promote recycling and reduce waste in Barking and Dagenham.
Read more ...
Trewern Meeting Details
In case you missed our Trewern meetings across both sites this week we are posting the details online for you to catch up or use for reference.
Read more ...
HR Officer Vacancy
We are seeking to appoint an experienced, highly effective Part Time Temporary HR Officer as maternity cover to join our dedicated staff.
Read more ...
Girls football at Goals
Valence girls played Roding Hewitt in the girls League at goals on Tuesday the 4th April and put on a great performance to grab the win.
Read more ...
B&D Post Cup
The Valence boys team played their semi final against Richard Alibon in the Barking & Dagenham Post Cup before the Easter Break.
Read more ...
Farewell Mrs Chaplin
This week we say a very fond farewell to Mrs Chaplin, our inspiring Head teacher. We warmly wish Mrs Chaplin future happiness and success and extend our heartfelt thanks for the many years of dedication she gave in making Valence Primary School the centre of excellence and enjoyment it is today.
Gymnastics competition
Children from years 3,4,5 and 6 attended the Borough Gymnastic Competition on Tuesday 28th March. Valence entered 3 teams, 1 in the 3/4 event and 2 in the 5/6 event. 
Read more ...
Comic Relief
We held our Comic Relief Day a little late this year but that did not stop the fun. With pupils on both sites wearing red for the day we raised over £1,000 for Comic Relief.
Read more ...
National League Cup Regional Finals
Valence Primary School got the opportunity to represented Dagenham & Redbridge in the National League Cup Regional Finals at Woking football club on Wednesday 22nd of March.
Read more ...