At Valence Primary we aim to create a school where PRAISE is central to our aims.
We recognise the commitment of parents, staff and governors in developing a positive partnership. Our children will be able to learn together, achieve together and belong together and will be well prepared to meet the challenges of an ever changing world.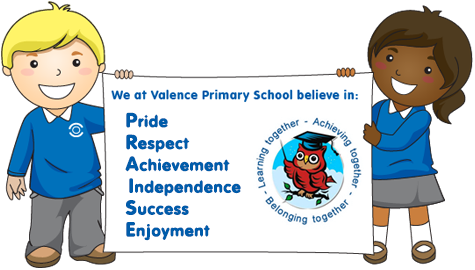 Return to School
Enjoy the summer break, we will see you all again on Monday 5th September at 9:00am.
Pupil of the Year Awards
As we come to the end of the School Year its time to celebrate the year that has passed and the success of all our pupils at Valence.
Read more ...
Heatwave advice
With the temperature soaring and looking set to stay high it is important to make sure you stay comfortable and well in the heat.
Read more ...
Challenging Behaviour Event
On Monday 12th September 2016 at 10am to 2pm we will be holding a Challenging Behaviour Event.
Read more ...
Free World Cup Festival Tickets
Our Year 5 Boys Football team have made it to the semi-finals of the World Cup Festival (to celebrate 50 years since England won the World Cup). The semi-finals will be played at Dagenham & Redbridge Football Club on Saturday 23rd July and it's free.
Read more ...
School Fete Raffle Winners
The draw for the School Fete Raffle has been made, find out if you are a winner. Here are the results...
Read more ...
Girls Football Team Win BDSFA League
Congratulations are in order again for one of our football teams. The girls football team became champions of the BDSFA Girls League yesterday after beating Godwin Primary School.
Read more ...
Head Teachers Tea Party at St George
Congratulations to all the pupils who got to attend the Headteachers Tea Parties at St George's this term. They all enjoyed a nice buffet with all this things kids enjoy waited on by by the teachers.
Read more ...