At Valence Primary we aim to create a school where PRAISE is central to our aims.
We recognise the commitment of parents, staff and governors in developing a positive partnership. Our children will be able to learn together, achieve together and belong together and will be well prepared to meet the challenges of an ever changing world.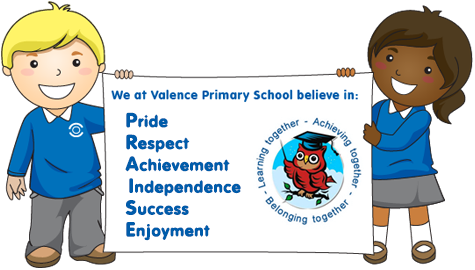 Cross Country Season
October saw the start of the Cross Country Season with a run at Mayfields Park on a very blustery afternoon. 
Read more ...
School Presidents
A girl president and boy president has been selected from each site. All interested candidates prepared speeches and were then shortlisted to deliver the speeches to the Upper School Assembly.
Read more ...
Be Bright Be Seen
With the clocks going back soon and the nights getting darker earlier it's important for children to be as visible as possible when walking/cycling in the dark.
Read more ...
District Football Trials
Valence sent 4 boys to try out for the school football district trials, with over 100 boys attending the trails the competition is tough.
Read more ...
Harvest Festival
It is nearing that time of year again when we will be asking for donations to be given to our Harvest Festival celebration. This year, all food donations will be passed on to a local charitable organisation.
Read more ...
Parent View
This years Parent View Results have been published, you can view the results below or visit our Parent View page in the Parent Section to find out more information.
Read more ...
No Pens Wednesday
No Pens Day Wednesday was enjoyed by pupils and teachers alike. No Pens Day Wednesday encourages schools to put down their pens and to run a day of speaking and listening activities.
Read more ...
MacMillan Coffee Morning
The MacMillan Coffee Mornings were a great success on both sites. Thanks to all those who came along to support the cause, and to get a nice slice of cake and cup of coffee.
Read more ...