At Valence Primary we aim to create a school where PRAISE is central to our aims.
We recognise the commitment of parents, staff and governors in developing a positive partnership. Our children will be able to learn together, achieve together and belong together and will be well prepared to meet the challenges of an ever changing world.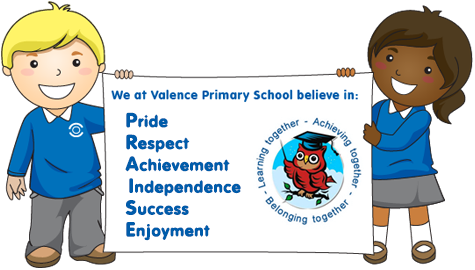 Summer Holidays
Have a fantastic break over the summer, good luck to all those who are moving on. Remember term starts on Wednesday 6th September.
Valence Blogs
Keep up to date with what our different year groups have been up to over each term by following our blog.
Read more ...
Parent Info Page
At Valence Primary, e-safety is embedded not only in our computing lessons but is very much a part of how we teach children to stay safe so we have just added the Parent Info page to our wesbite.
Read more ...
Pupil of the Year 2017
Congratulations to all of our pupils who picked of Pupil of the Year Awards. Each class across both sites selected one pupil to win the award.
Read more ...
Barking and Dagenham Newsletter
There are lots of summer events for families and a great autumn event coming to Valence House.
Read more ...
Hogwarts Model Building
A group of Year 5 boys worked really hard to make a brilliant model of Hogwarts.
Read more ...
Sports Awards 2017
Congratulations to all of our pupils who picked up Sports Awards this year. There were lots of awards from Fair Play to most active and of course the fastest 3 boys and girls in each year group picked up awards across both sites.
Read more ...
Last Trip to Wellgate Farm
The last trip to Wellgate Farm was really exciting. Catch up with what our pupils got up to.
Read more ...
Holiday Club Opportunity
As you are aware, the Summer Holidays are rapidly approaching and, after our successful pilot last year, we will be offering a Holiday Club over the summer break.
Read more ...