At Valence Primary we aim to create a school where PRAISE is central to our aims.
We recognise the commitment of parents, staff and governors in developing a positive partnership. Our children will be able to learn together, achieve together and belong together and will be well prepared to meet the challenges of an ever changing world.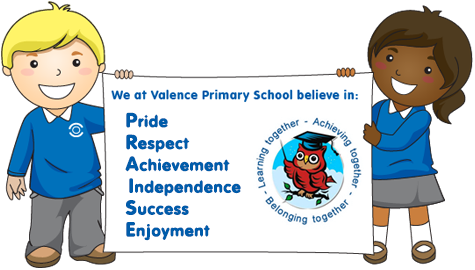 Staying Safe on Social Media
Are you sure that your child is using Social Media safely?
Safeguarding is a priority for us at Valence and for you at home. Download our flyer on Staying Safe on Social Media to find out more about keeping your family safe on-line.
Read more ...
Attendance Cup Winners
The St George Attendance Cup winners have were announced in assembly this morning.
Congratulations to Diamond, Ruby, Opal and Tanzanite classes.
Read more ...
Marwell & Trewern residential trips
Find out all about the residential trip to Marwell Activity Centre...
Read more ...
Sports Results
Some great results from the Valence Sports Teams this week in Football and Netball.
Read more ...
Sports Results
Year 5 & 6 girls played their semi-final for the Monteagle Shield on Friday night. The girls romped home with a 3-1 victory over Richard Alibon thanks to a hat-trick from Millie Blythe. This great performance has secured the girls a place in this years final.
Read more ...
Headteachers Tea Party at St George's
At St Georges we are lucky enough to have two Head Teachers Tea Parties to cover all the pupils on site. The Tea Parties were on Wednesday and Thursday of this week and all the invited pupils really enjoyed their themselves.
Read more ...
Bonham Headteachers Tea Party
The Headteachers Tea Party at Bonham was enjoyed by all. Lots of fun, laughter and food for pupils and the Headteacher too.
Read more ...
The Queen's Birthday Celebration
Next week Valence Primary School will be joining in with National celebrations for the 90th Birthday of Her Majesty Queen Elizabeth II.
Children are invited to wear clothing items that are red, white and blue to mark the occasion on Thursday 21st April 2016.
Read more ...