At Valence Primary we aim to create a school where PRAISE is central to our aims.
We recognise the commitment of parents, staff and governors in developing a positive partnership. Our children will be able to learn together, achieve together and belong together and will be well prepared to meet the challenges of an ever changing world.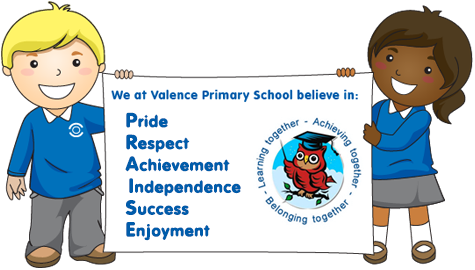 Better Contact with Parents using ParentMail
We know that as parents you get information coming at you thick and fast from schools and clubs and it can be a challenge to keep all that information organised and easy to hand. More often than not that can mean trawling through busy email inboxes or searching for missing bits of paper.
Read more ...
Welcome back
We hope you all had a good break and are ready for the spring term. We will have lots to look forward to as we head further into the year.
Read more ...
Spring Fete Donations
Valence Primary are holding their first ever spring fete. To make this event the best we have ever had, we are relying on the good nature and generosity of our parent/carers.
Read more ...
Science Week
Science Week at Valence was a great time for pupils to get on their lab coats with some hands on experiments and research.
Read more ...
SAT's Meetings & Test Dates
Thanks to all those who came along to our recent SAT's meetings. Keep refreshed on what was covered with these downloads and when the tests will be held.
Read more ...
World Book Day
We will be celebrating 'World Book Day' at Valence Primary in February. Check below for the dates of this day on each site.
Read more ...
Numbers Day, Fundraising for N.S.P.C.C.
Numbers Day was on Friday 3rd February at Valence and was great fun for all involved.
Read more ...
Young Writers Poetry Competition
Just a reminder to our pupils from Reception to Year 6 that the Young Writers Poetry Competition is running. All forms must be handed in by Thursday 9th Feb.
Safer Internet Week
Safer Internet week was an enjoyable way to educate pupils on ways to safe safe whilst using the web. The week was a great success and the activities where enjoyable as well as having the benefit of promoting safe internet use and alerting pupils to the dangers of casually sharing personal information online.
Read more ...