At Valence Primary we aim to create a school where PRAISE is central to our aims.
We recognise the commitment of parents, staff and governors in developing a positive partnership. Our children will be able to learn together, achieve together and belong together and will be well prepared to meet the challenges of an ever changing world.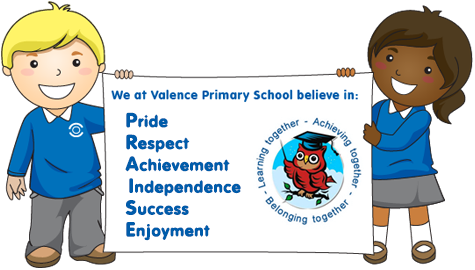 After School Clubs
The After School Clubs finish this week so you will need to pick up your child at the usual time from next week until the end of term.
Read more ...
Dagenham disability sports festival
Children from both sites enjoyed a fantastic day at Dagenham's Sporthouse on Friday 2nd December. They got involved in a range of sports, including boccia, boxing, archery and wheelchair basketball.
Read more ...
Pupils Christmas Parties
Each class (excluding Nursery) will be having their very own Christmas Party on Monday 19th December. Parties will be held in their classrooms and your child can wear their own clothes on this day. Refreshments will be provided by the school.
Read more ...
Christmas Break Dates
This term ends on the 20th December at 2pm and we return on the 5th January 2017.
Christmas Dinners
Check the times and dates of the Christmas Lunches across both sites.
Read more ...
Year 2 Nativity Performance
The dates for the Year 2 Nativity Performances on each site are detailed below...
Read more ...
Apprentice Board Game
Our pupils were given the opportunity to judge the quality of two board games created by candidates for the 2016 Broker Apprentice. Two Teams, Two Games only one winner...
Read more ...
Basketball at Eastbury
We had two basketball teams competing at Eastbury Comprehensive School in the Borough Basketball Heats.
Read more ...
Children in Need
On Children In Need Friday Pupils were invited to wear Yellow or Spots to show their support for Children in Need. 
Read more ...