At Valence Primary we aim to create a school where PRAISE is central to our aims.
We recognise the commitment of parents, staff and governors in developing a positive partnership. Our children will be able to learn together, achieve together and belong together and will be well prepared to meet the challenges of an ever changing world.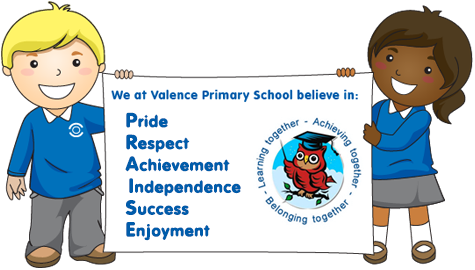 After School Clubs are starting up again
After School Clubs are starting up again after school on Monday 16th January. Confirmation of who is attending which club has been sent out.
Read more ...
SAT's Meetings for Parents
We will be holding two SAT's meetings for parents on each site in February.
Read more ...
Target Tracker Statements
Our Target Tracker Assessments are now available for viewing. Maths (number), Maths (all other), Reading and Writing review sheets from Bands 1 to 6 are all available to download as PDF's.
Read more ...
Early Choir Practice
Choir practise will start before other clubs start this term, after school from this Monday 9th January at Bonham and Wednesday 11th January at St Georges after school. This is for Choir Practise only, our other clubs have not started yet and will be announced when they do.
Welcome back
We hope you all had a good break and a great start to the new year. We will have lots to look forward to as we head into the new year.
Read more ...
Santas Visit
We got a surprise visitor earlier this week, a certain Mr Claus came to pay the pupils a visit just before Christmas, we hope they had all been good!
Read more ...
St Georges Head Teachers Tea Party
Congratulations to all the pupils who got to attend the Headteachers Tea Parties this week at St Georges. They all enjoyed a nice buffet with all this things kids enjoy waited on by by the teachers.
Read more ...
Valence Blogs
We have started Blogging at Valence. Each your group will be running its own blog so pupils, parents and carers can keep up to date with what each year group has been up to.
Read more ...
An Hour of Code
On Friday 9th December we took part in an Hour of Code. Hour of Code is a global movement reaching tens of millions of students in over 180 countries...
Read more ...