At Valence Primary we aim to create a school where PRAISE is central to our aims.
We recognise the commitment of parents, staff and governors in developing a positive partnership. Our children will be able to learn together, achieve together and belong together and will be well prepared to meet the challenges of an ever changing world.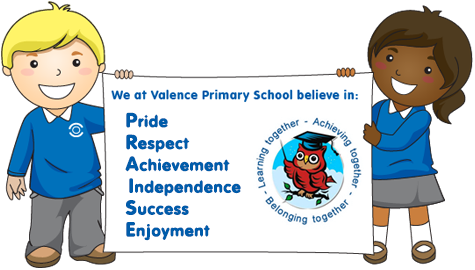 Cook for GEMS Club Support Team
Valence Primary School is looking to increase its staffing level within the GEMS Support Team.
Read more ...
Jeans for Genes
A big thanks for all the support we have had from the pupils on Jeans for Genes day. The pupils came to school in Jeans to raise money and awarness for the children living in the UK with a Genetic Disorder.
Read more ...
Welcome Meetings
Thankyou for all who attended our Welcome Meetings at the start of the new term. These were a great way of introducing people to Valence, for reference and for those unable to attend we are making the PowerPoint Presentations used at the Welcome Meetings available to download.
Read more ...
Lunchtime Play Leaders
We are looking to recruit enthusiastic people to join our mid-day team. The successful candidates will work during the lunchtime period leading and promoting playground games and social activity.
Read more ...
Nursery places available
We currently have afternoon places available for Nursery on both of our sites. Get in touch to find out more.
Read more ...
Activity Clubs
The After School Activity Clubs start up this week. Pupils will know in advance which clubs they have been accepted for and which day of the week their clubs are held on.
Read more ...
School Prospectus
The School Prospectus is now available on our website for all our new starters. this is a great resource even if you have been here a few years already.
Read more ...
Jeans for Genes Day
On Friday 23rd of September for a donation towards this national charity pupils are invited to wear jeans with their uniform top.
Read more ...