At Valence Primary we aim to create a school where PRAISE is central to our aims.
We recognise the commitment of parents, staff and governors in developing a positive partnership. Our children will be able to learn together, achieve together and belong together and will be well prepared to meet the challenges of an ever changing world.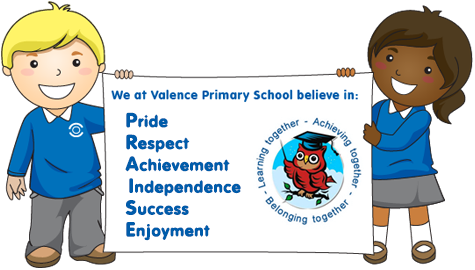 Parent Survey Results
Dear parents and carers. In July 2018, the school carried out an online and paper survey for parents to respond to, and we have uploaded the results for you to download as a PDF.
Read more ...
September 2018 Newsletter
Keep up to date with news from across both sites and upcoming events with our monthly newsletters.
Read more ...
Welcome Meetings Years 4,5,6 & Reception
We are holding meetings for parents of pupils in years 4,5,6 and Reception to welcome you all to the start of the new academic year.
Read more ...
Year 1 Welcome Meeting
Just in case you missed our Year 1 Welcome Meeting you can download the presentation we used here as a PDF.
Read more ...
School Games Gold Mark Award
We are delighted to announce that Valence Primary School have achieved the School Games Gold Mark for the 2017/18 academic year.
Read more ...
Moving to secondary school in 2019 Information Meeting
There will be a meeting to offer advice to parents about the admissions process for pupils moving to secondary school in 2019.
Read more ...
Headteacher's Tea Parties July 2018
We have just held our summer Headteacher's Tea Parties for both sites, catch up with who was lucky enough to get invited.
Read more ...
Pupils and Teachers Supporting Valence Park
Members of the local community got together to support the push to renovate Valence Park with Lisa Adams and MP for Barking Margaret Hodge. Their hard work and enthusiasm has lead to being featured in the Barking and Dagenham Post. 
Read more ...
Fortnite: parent factsheet
Fortnite is an online video game where players compete to be the last person standing in a post-apocalyptic world.
Read more ...