At Valence Primary we aim to create a school where PRAISE is central to our aims.
We recognise the commitment of parents, staff and governors in developing a positive partnership. Our children will be able to learn together, achieve together and belong together and will be well prepared to meet the challenges of an ever changing world.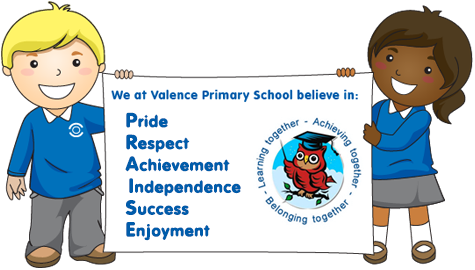 Monteagle Shield Final
Following a fantastic football season so far, Valence Girls football team retained the Monteagle Shield following a hard fought game against Hunters Hall. 
Read more ...
Race For Life
The Race For Life day was a great success. Despite the poor weather all years on both sites managed to get out and run. All the pupils and many teachers ran a 1 mile route around the school playgrounds while the nursery children completed an obstacle course.
Read more ...
Sports News May 2016
Another great month of sport from the pupils of Valence with Football wins, reaching the Borough Basketball Final and a Penathlon Gold. All the results and details below.
Read more ...
Summer Fete Meeting
Please join us for a morning tea or coffee, the talk theme will be the Summer Fete. We would like to hear ideas for making this year's fete another huge success!
Read more ...
Race for Life
On Wednesday the 18th May, every class will run/walk a mile for 'Race For Life' in aid of cancer research on the St Georges playground and field and all children will receive a certificate and medal for competing the run/walk.
Read more ...
School Nurse Visits
The School Nurse will be making two visits to the school before the summer break. These are the dates and times of the visits.
June 8th 09:00 - 09:30
July 13th 09:00 - 09:30
Count on us challenge
A big congratulations to our Maths trio (Elijus, Nila and Angela) who represented Valence Primary School at the Mayor's Fund for London 'Count On Us Challenge'.
Read more ...
World Book Day Competition
The World Book Day Competition was a competition that took place during World Book Day this year. Children from all year groups took part and the challenge was to 'Design a new Superhero Character'.
Read more ...