At Valence Primary we aim to create a school where PRAISE is central to our aims.
We recognise the commitment of parents, staff and governors in developing a positive partnership. Our children will be able to learn together, achieve together and belong together and will be well prepared to meet the challenges of an ever changing world.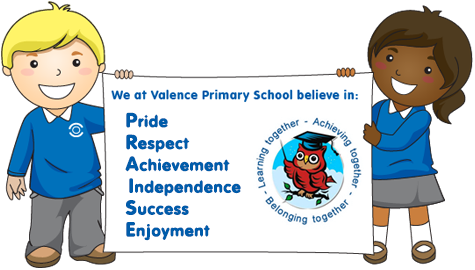 Spring Fete 2017
The Spring Fetes were a great success, thank you to all those who helped to organise the events and to all those who came along to have some fun.
Read more ...
Lambourne End Trips
Our Year 5 pupils have been out adventuring at Lambourne End with some pupils from Southwood Primary.
Read more ...
After School Clubs Finish On Friday 24th March
After School Clubs will be finishing for the term on Friday 24th March (Third Space Learning will run as normal). The school will also be closing early on Thursday 6th April.
Read more ...
Part Time Temporary HR Officer Vacancy
We are seeking to appoint an experienced, highly effective Part Time Temporary HR Officer to join our dedicated staff.
Read more ...
Fete Prize Winners
The winners of the prizes from the Spring Fetes have been announced. If you entered the Raffle, Name the Bear or Guess the Sweets you might want to check to see if you are a winner.
Read more ...
Marwell 2017 Parent Meetings
With the meetings for the 2017 trip to Marwell being held across both sites this week we are making much of the information available for parents via our website. 
Read more ...
St Chad's Park Tree Planting
A group of children were delighted to get muddy on Wednesday. They helped to plant fruit trees in St Chad's Park.
Read more ...
Eisteddfod Winners
Eisteddfod is our annual competition to show off the talent we have at Valence across both sites. Find out who won what on each site...
Read more ...
Premier League Schools Football Tournament
On Thursday the 2nd of March Valence Primary where invited to play in the Premier League Schools Tournament at West Ham.
Read more ...