At Valence Primary we aim to create a school where PRAISE is central to our aims.
We recognise the commitment of parents, staff and governors in developing a positive partnership. Our children will be able to learn together, achieve together and belong together and will be well prepared to meet the challenges of an ever changing world.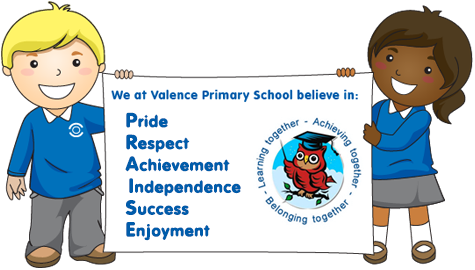 Star of the Week 15/03/2019
Well done to all of our 'Star of the Week' pupils from the week ending 15th March 2019. Keep up the good work. 
Read more ...
Communication Workshop
We held a Communication Workshop on both sites on Wednesday 20th March with parents and children from our Reception and Year 1 classes. 
Read more ...
Essex Outdoors: Bradwell & Danbury trips
Keep up to date with details of the upcoming Essex Outdoors: Bradwell & Danbury trips from this week's talks. 
Read more ...
Calling all Friends of Valence
Are you keen to support the development of the school playground? Are you involved in a company or business that can help us? 
Read more ...
Community Orchard Days
Everyone welcome – come along and learn how to care for fruit trees in Dagenham! 
Read more ...
Quiz Night
We are delighted to invite all parents, staff and friends of Valence to a Quiz Night at 7.30pm on Thursday 4th April at the Bonham Road site. 
Read more ...
The Roost @Valence Primary School
On Friday 15th March, our new provision at the Bonham Road site to support pupils and families was officially opened by Councillor Evelyn Carpenter. 
Read more ...
Basketball Ticket Winners
Recently, London Lions basketball players Ladarius Tabb and Abraham Ekperuoh visited our school and brought with them three family basketball vouchers to see the London Lions play at the Copperbox Arena in Stratford. 
Read more ...
Newly Qualified Teacher Required
This is an exciting opportunity for an NQT to join Valence Primary School. 
Read more ...