At Valence Primary we aim to create a school where PRAISE is central to our aims.
We recognise the commitment of parents, staff and governors in developing a positive partnership. Our children will be able to learn together, achieve together and belong together and will be well prepared to meet the challenges of an ever changing world.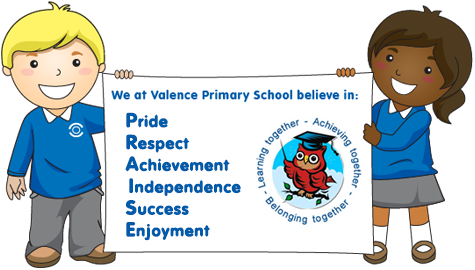 LBBD Remote Learning Survey
The Local Authority of Barking and Dagenham is conducting a survey about remote learning and the internet.
Read more ...
Year 3 Woolly Mammoths
Year 3 have been learning about the Stone age this half term. They have made their own woolly mammoths. Check out the great work they have produced.
Read more ...
School closing arrangements - Friday, 17th July
Please be advised that school will finish at 12:00 midday on Friday, 17th July, this includes keyworker groups.
Gems will still be available.
Year 6 T-Shirts & Year Book Deadlines
The deadlines for the Year Book and Leavers T-Shirts for Year 6 pupils are quickly approaching!
Read more ...
End of Term Plans & Update
As we near the end of term, I continue to be amazed at the resilience of the pupils at home and in school. We are averaging around 200 pupils on a daily basis over both sites, and we are delighted that all pupils will be returning in September.
Read more ...
YouCubed Maths Advice
YouCubed maths advice for Parents PDF from Professor Jo Boaler of Stanford University.
Read more ...
P.E. Bags and Lost Property
All P.E Bags have now been brought to the office lobby area. They are in labelled year group boxes.
Read more ...
Free Meditation Library
During this difficult time, now more than ever, we could all use a little escapism to help us decompress, de-stress and deeply relax.
Read more ...
July Science Challenge
Get involved in our July Science Challenge to make an egg float!
Read more ...