At Valence Primary we aim to create a school where PRAISE is central to our aims.
We recognise the commitment of parents, staff and governors in developing a positive partnership. Our children will be able to learn together, achieve together and belong together and will be well prepared to meet the challenges of an ever changing world.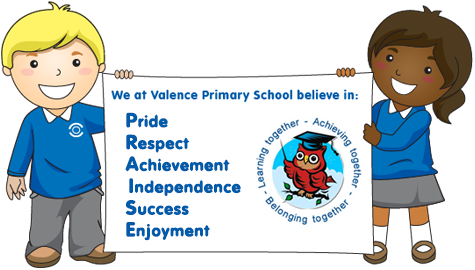 April Science Challenge
Get involved in our April Science Challenge to make giant bubbles!
Read more ...
Support Information for Families & Pupils
We have updated our support leaflet for families and pupils and made all links and contact numbers available on this page for easy access.
Read more ...
Easter Holidays Provision For Key Workers Children
As we fully know, the message from the government is clear: Stay at home whenever possible. This is the best way to stay safe.
However, Valence St. George's is providing care for critical workers' children, and a small number of school staff are working to facilitate this.
Read more ...
Minister Ford's open letter to the SEND sector
This is an unprecedented, uncertain and testing time for all of us due to the coronavirus (COVID-19) pandemic.
Read more ...
Bonham site closed
In light of pupil numbers and staff availability, Valence Bonham is closed for all staff and pupils until further notice. Key worker pupils will be cared for at Valence St. George's.
Read more ...
Remote Learning Hub Support
To support children's learning during the shutdown, we have prepared Google Classroom as a way of providing activities and lessons directly to children and ClassDojo to allow parents/carers to communicate directly with teachers.
Key Workers and Parents of Vulnerable Pupils
As you are aware, the Government has announced that all schools in England will close for the vast majority of children as of Friday 20th March, until further notice.
Read more ...
Work Packs
Work Packs will continue to be available, contact the St. George's office for details.
Sport Relief 2020 Pictures
Catch up with our Sport Relief activities with some pictures from the day.
Read more ...